Okay I think this is my first entry about politic. You know I'm not so into politic, especially the local ones. I don't know, it's just not interesting and I don't give a shit.
But because I'm a Malaysian, it's time for me to voice out my thoughts and opinions on the biggest topic these days, Bersih 2.0 rally, since it has gone out of control.
As for the opposition de facto leader, Anwar Ibrahim, I do admire that you're still standing even has been literally beaten and attacked nonstop by the people in power, and you have a lot in your plate.
But as a leader, can you stand up and claim that you are really bersih (clean)?
As in never involved in any form of corruption, not involved in the sodomy, not the person in the sex tape, really fair to the people that you won't give priority to particular race and religion in the country, and that there's no hidden agenda in organizing the Bersih 2.0 rally which would endanger people's life?
If you cannot claim any of the above, you have no rights to organize nor support the Bersih 2.0 rally as you are not clean.
No offense. Oh don't be so dramatic, this is just my humble opinion. I might be wrong somehow, you can correct me. I've never talked about politics before, remember? So give me a shot, dude! :p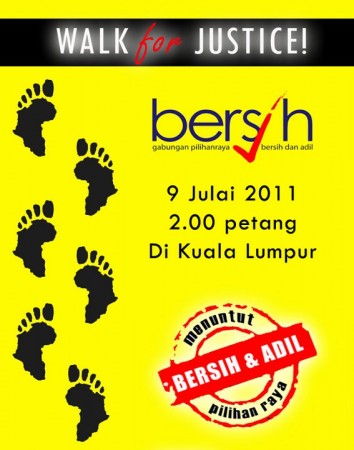 Well seriously, I wish that this whole tension thing will resolve as soon as possible. This is bad for business, and some extremists will ride this one out to create more extreme ideology and tension to their advantage, and then the whole country will suffer.
Business in our country has slowed down a lot during the year, and this? This is really bad for business.
So this would be the end of my politic category. I won't write about it again. It's making me nauseous.